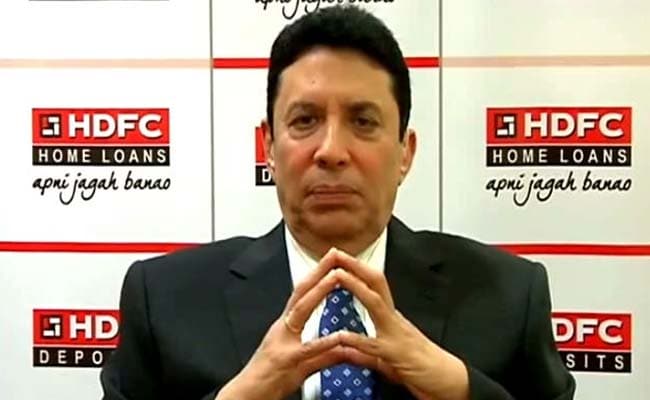 Kolkata:
Oil and climate-related issues are theoretically the biggest risk factors India must face and overcome to maintain an growth curve that makes the country the fastest growing large economy in the world, HDFC Bank Director Keki Mistry said in Kolkata on Wednesday.
Mr Mistry also spoke on creating jobs for Indian youth, describing the government's efforts in this regard as 'very successful' but also emphasised the need to continue the good work.
"We have to continue creating jobs because we have so many Indians who are passing out from business schools and colleges… so it is important. It is happening today because industry is there… the economy is growing… India's growth rate today is the fastest among large economies in the world. So, as long as that trend continues, we are fine."
"Within India we have to ensure we are continuing creating enough jobs. I am not saying that is a risk. It's a need that we have to keep creating enough jobs," Mr Mistry added.
"If you ask me theoretically what the risk is… the risk is 'oil'. Oil is the biggest risk factor. And climate-related issues… that is a big risk. This is because these are things that are not in our control. Oil is not in our control," he said.
Mr Mistry was the chief guest at an event to celebrate the eighth anniversary of Kolkata-headquartered Bandhan Bank and spoke on 'Perspectives on the Economy, Housing and Corporate Governance in India'.
Housing Loans Across India
The HDFC Bank boss also touched upon housing loans granted across the country and regional differences in this figure, noting that eastern parts of India have historically had fewer housing loans disbursed than those in the south, north and west.
These regional figures, though, are now showing similar percentage growth, he said.
Mr Mistry indicated that the improvement for eastern Indian regions may be because the base, i.e., number of disbursed loans, is lower than other parts of the country.
This does not, however, mean there is low growth in those areas, he stressed.
"For us, over the years, the eastern part was more (about) deposit-gathering than giving loans but (now), pan-India, we are seeing that growth is very strong. Even in the eastern part of the country, even in Kolkata or in West Bengal, we are seeing as much growth in percentage terms as we are seeing in some of the other states," Mr Mistry said.
"It's just that historically the baggage is that in terms of percentage distribution of our loans the eastern part has relatively lower percentage than the south, west or north. Having said that, the percentage growth, at HDFC, is growing at 17 per cent or 18 per cent in terms of housing loans… that kind of growth is coming from across the country. Maybe eastern parts have shown higher percentage growth because the base is lower," he explained.
He also lauded Bandhan Bank's efforts to bring more people into the formal banking system.
"I am happy to be a part of Bandhan Bank's Foundation Day and privileged to deliver the anniversary lecture. Having seen the journey of Bandhan Bank from close quarters, I know their steadfast commitment to purpose-driven banking, reaching the right audiences, and the intent to catalyse meaningful change in the lives of their customers. I wish the best for the future."
Bandhan Bank Anniversary
Bandhan Bank's Founder, Managing Director and Chief Executive Officer, Chandra Shekhar Ghosh, said, "It has been a great ride in these eight years of Bandhan Bank. With the opening of our Leh branch, we have established our presence in another union territory and enhanced our presence."
"We will continue to expand our footprint to reach a wider population across the country. I want to thank all our stakeholders and well-wishers for their trust and support; for being a part of this incredible journey and for believing in us."
Bandhan Bank marked eight years of its journey by opening a branch in Leh district in the Union Territory of Ladakh. The bank also opened another branch in Srinagar in the Union Territory of Jammu and Kashmir.
With the launch of these branches, Bandhan Bank established its presence in 35 of 36 states & UTs and has a customer base of over three crore with 6,100 banking outlets across India.